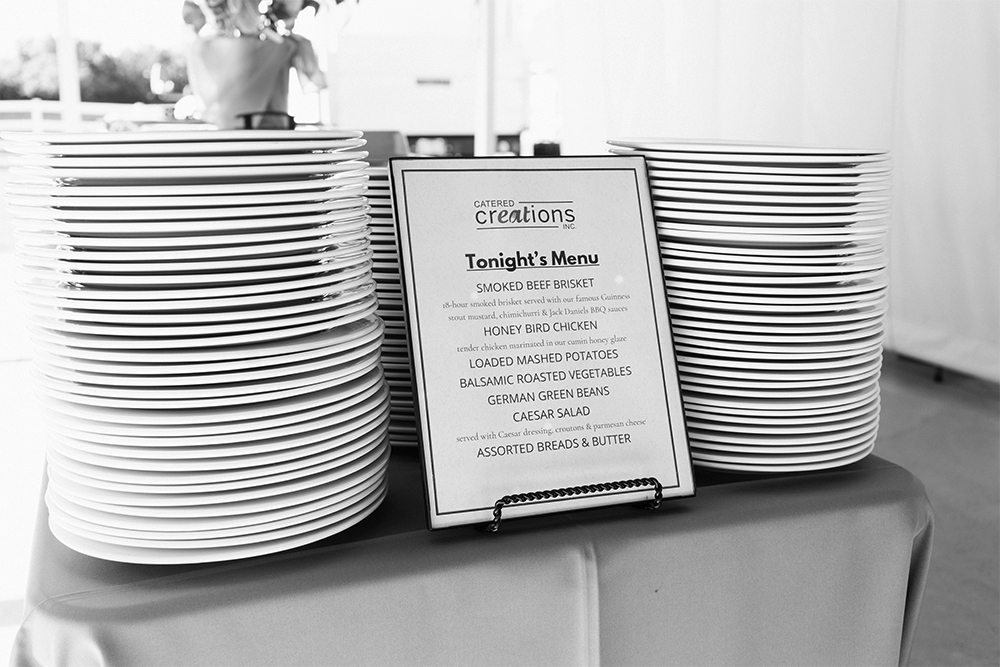 When you're planning catering, it can be difficult knowing the level of support your event needs. Do you handle it yourself with a meal delivered or choose to have our on-site staff? We're here to help you determine the best service option for your event! Knowledge is power, so let's learn the differences between full service and delivery, along with what is included with both.
Full Service:
If you are looking to enjoy your party like a guest, this option is for you!

Fully Personalized Menu:
Our chef loves getting creative to help you plan your perfect menu. We believe that the experience around food significantly affects an event. We'll help you ensure that your menu is thoughtfully considered and supports the overall theme of your gathering.
Prepared On-Site:
We cook as much food as possible on-site so your guests only receive the freshest cuisine. For many events, we bring grills, ovens, stovetops and fryers to cook, crisp, boil, bake, and sauté.
Helpful Staff:
With our full service option, our professional staff is available throughout your event. They assist with food preparation, serving your guests, and clean up during and after. You'll have peace of mind knowing they are taking care of all the details.  
Your Choice on How to Serve:
Depending on the desired flow of your event, we have the service to match:
Buffet Style: This option allows each guest to decide exactly what they would like on their plate and how much! Buffets create a fun, celebratory atmosphere. Guests have been known to cheer as we release their table to go up!  
Family Style: Our staff serves platters and bowls of your delicious menu items to each table. Family style dining creates an intimate experience, with guests passing the dishes as they get to know each other.
Plated Dinners: Plated dinner immediately elevate an event. Each guest receives their own pre-plated meal with special attention to food presentation. This option is the ultimate in relaxation for your guests, as they are served each course so they can focus on sparkling dinnertime conversation.
Serveware to Match Your Event:
We have a wide range of serve and tableware to create the perfect tablescape. From upscale disposables to eclectic vintage china, we have the right serveware for your party.
Clean Up Service:
Often by the end of your event (especially if dancing is involved), you're tired and not looking to go into cleaning mode. With our full service option, we take care of the clean up and packing out!
Delivery:
Our delivery service is great for smaller events such as corporate meetings, birthday parties, and reunions. Our catering delivery option allows you to focus on the other details of your event, without having to be in the kitchen all day preparing.

Prepared in Our Kitchen, Delivered to Your Door:
We give care and attention to detail with every delivery order. Our menus are developed with one thing in mind – serving our off-premise clients. We're not adapting restaurant recipes for delivery to you. Everything we cook, bake, grill, prepare, plate, arrange and deliver is specifically created to serve you wherever you are.
Professional Delivery:
Our delivery staff is uniformed, professional and cross-trained by our culinary team to know what you've ordered and how to properly set up and present your cuisine on-site.
Pre-set Menus:
It's easy to put together an order! We have a variety of menus created and à la carte options for you to choose the right complement to your event. We also feature mouth-watering monthly specials to highlight the season.
Eco-friendly disposables:
No styrofoam here! We serve with eco-friendly disposables. Everything you need for your meal will be included with the delivery.
---
Still have questions about what route is best for your event or ready to start planning? Contact us here. We look forward to hearing from you!