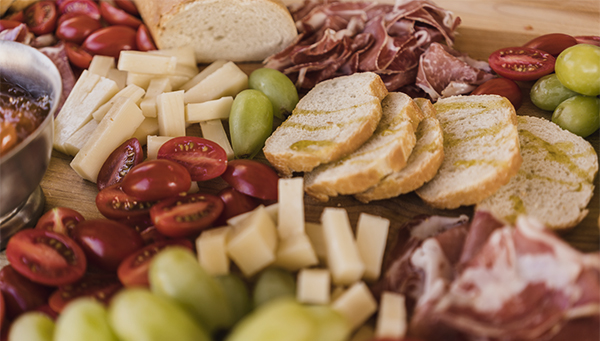 Charcute-what?
Charcuterie (SHärˈko͞odərē) is a delicatessen-style cured meat with origins in French cuisine, including favorites like ham, bacon, sausage, and pâté. Charcuterie is most often served with breads, cheeses, fruits, and pickled vegetables, creating an elegant party starter. Charcuterie boards are perfect platters for your get-together because you can make them ahead of time (read: less stress!), and there is literally something for everyone. With an assortment of meats, cheeses, nuts, fruits, jams, breads, and pickled vegetables, each guest is likely to find that perfect bite.
Charcuterie Board Building 101
The Meat: It all starts here. Go for a variety in textures, from buttery Prosciutto di Parma to a hard salami to a soft pâté. We love going to a butcher to have them slice the meats fresh.
The Cheese: Add cheeses that complement the meats you've chosen. For example, a smokey salami goes great with an aged cheddar. To ensure variety, try and choose cheeses from different categories:
Aged: aged cheddars and goudas are a sure thing
Soft: think creamy brie, cremont, and tommes
Hard: look for crystallizing for the good stuff. You can't go wrong with Parmigiano-Reggiano, manchego, or gruyere
Fresh: ricotta, goat cheese, burrata, chevre, and fresh-milk mozzarella
Funky: there are many different varieties of bleu cheese
If you still are unsure, head on over to The Cheese Lady. They will let you taste as many cheeses as you'd like and help suggest combinations.
The Accompaniments: Accompaniments serve to cut the richness of the meat and cheese, so go for something acidic, savory with small pickles, sharp mustards, and olives or sweet with pears, green apples, plums, grapes and figs. Adding in some nuts, honey or truffle butter is especially tasty. Because accompaniments are best served in season, we recommend going down to the Fulton Street Farmers Market and see what fresh finds are available.
The Vehicle: How are your guests going to get all this yumminess to their mouth? Try a sliced baguette, whole wheat crackers, crusty country bread, airy rice crackers, or thin, buttery crackers.
Still Need Some Guidance? We got you. 
There are A LOT of options for what to put on your charcuterie board, and it can be overwhelming. So, we took on the tasting for you (totally difficult, not super delicious at all, you're welcome). Here are some of our favorite pairings for a mouthwatering, beautiful charcuterie board:
Crème de la Crème Board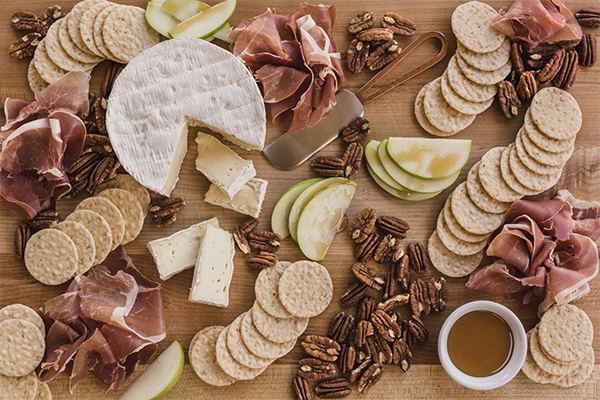 Meat: Parma Prosciutto
Cheese: Triple Cream Brie
Accompaniments and Spreads: Honey, Roasted Pecans, and Green Apple
Vehicle: Thin Rice Crackers
The Godfather Board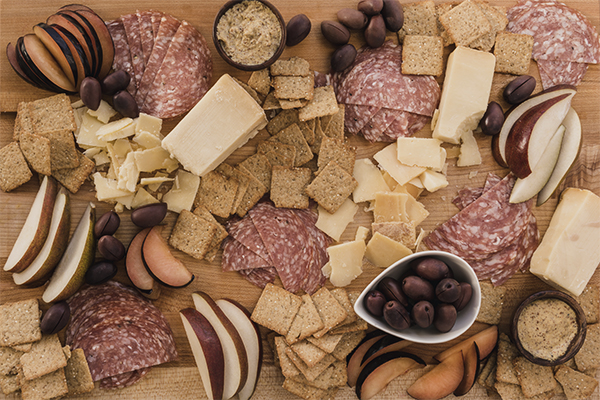 Meat: Italian Soppressata and Milano Salami
Cheese: Aged Cheddar
Accompaniments and Spreads: Grainy Mustard, Kalamata Olives, Plums, and Pears
Vehicle: Whole Wheat Crackers
Grapes of Wrath Board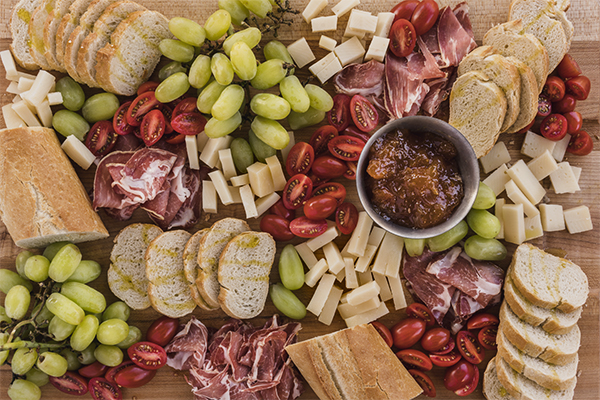 Meat: Coppa Ham
Cheese: Gruyere
Accompaniments and Spreads: Apricot Preserve, Cherry Tomatoes, and Grapes
Vehicle: Crusty, Sliced Baguette Drizzled with Olive Oil
You're ready, go for it!
Charcuterie boards are a fun do-it-yourself appetizer so give it a try at your next book club meeting, backyard cocktail hour, having that mother-in-law over (bonus, pair the board with wine), or just make it a summer meal. It's a proven fact that a get-together with a charcuterie board is 99% more likely to be fun.