It's not every year a company celebrates its 25th anniversary. For their special occasion, SoundOff Signal of Hudsonville, Michigan wanted to let executives and employees know that their contributions to the firm's success were highly valued.
Founded in 1992, the business makes rooftop lightbars, sirens and other equipment for patrol cars, fire trucks and emergency vehicles.
Intent on holding a grand celebration, one of SoundOff's first phone calls was to Catered Creations of Grand Rapids, Michigan for special event catering.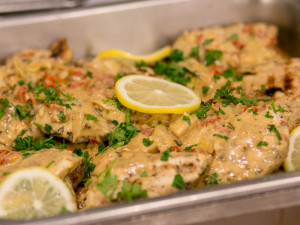 "The client actually had two catered celebrations in mind," said Allie Zylstra, event producer at Catered Creations. "On a Thursday night, SoundOff would host 125 executives at an elegant catered buffet with china service plus a full bar with mixed drinks, wine and craft beers. The following evening would be less formal. At this catered occasion, 650 workers and family members could enjoy buffet dining. One highlight would be a food station specially set up for children."
Held at SoundOff's own facility, the Thursday night catered buffet began with a scrumptious selection of appetizers. These included bacon-wrapped kielbasa bites plus spinach-and-artichoke dip as well as smoked-brisket "Brazi bites" — Brazilian cheese bread.
For dinner, the catered special event menu featured smoked beef brisket and Pappare chicken. A Catered Creations specialty and crowd favorite, Pappare chicken is breast of chicken baked or grilled and topped sun-dried tomatoes and artichokes in a creamy garlic sauce. For dessert, the guests later enjoyed Bailey's chocolate and caramel apple tortes
Given the size of SoundOff's Friday's night 25th anniversary celebration dinner, it was held on two floors.  On the upper level, adults selected from catered menu choices including a slider bar with pulled pork or shredded chicken, barbeque meatballs and twice-baked mini potatoes. Appetizers included pretzel bites with cheese dip plus a cheese-and-veggie display. A dessert table presented a delicious array of cookies, brownies and coconut macaroons.
Downstairs at the catered company celebration, children loaded up at a mac-and-cheese station. Here, they topped off their plates of macaroni and cheese with cocktail franks, diced chicken, broccoli, peas, tomatoes, bacon, green onions and mushrooms.
Beverage choices for adult guests at Friday's catered event included wine and craft beers, while the kids on the floor below sipped lemonade or apple cider punch.
"With a small catered buffet dinner on one night and much larger, buffet-style catered meal on the next, it was it was a busy couple of evenings helping SoundOff celebrate," said Zylstra. "However, the thanks expressed by guests and clients made the hard work well worth it."
The client also appreciated the extra touches put in by Catered Creations. In addition to catering the special event, they coordinated the party rentals and bartending services for SoundOff's two special evenings.
All about creating mouthwatering – and memorable – experiences, rely on Catered Creations to enhance your next event. From weddings and social parties to picnics and corporate functions, we've been serving West Michigan since 1986.