When a major healthcare provider recently sat down to plan an outdoor catered company picnic in Grand Rapids, Michigan for 700 employees, two major challenges confronted them: What to serve? And, how to make the picnic menu memorable?
Tried-and-true picnic menu selections like hot dogs and hamburgers or even grilled chicken appeal to many — but not all — considering today's ever-growing number of vegans and vegetarians who shun meat entrees of any type. And, of course, no matter how well prepared or elegantly served, there's simply not much that's special about those catered lunch standbys!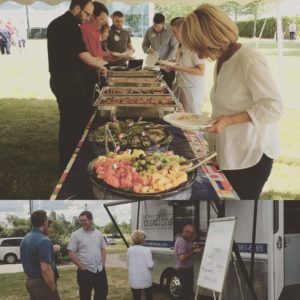 "Given the client's input, we suggested an Around the World Buffet," said Patti Zylstra, owner of Catered Creations in Grand Rapids. "With the many catered international foods planned, we could celebrate the diversity of the healthcare provider's workforce, satisfy virtually every taste including those of vegans and vegetarians and create an entertaining and noteworthy event."
On the day of the catered company picnic, guests enjoyed a catered event menu complete with tacos from Mexico and pasta salad from ltaly as well as aloo gobi — a vegetarian dish of spiced cauliflower and potatoes from India. Moving down the buffet line, the company picnic attendees also filled their plates with an Asian salad and Greek wraps as well as hot dogs from the good old U.S. of A.!
To underscore the catered picnic's global foods theme, Catered Creations identified each international food buffet station with flags and table cover graphics from the many countries represented. Serving as frill picks for appetizers and small hors d'oeuvres, miniature flags from Greece, Mexico, India, Italy and America added an elegant, global touch to the hospital's catered event!
The outcome? A complete success! The healthcare provider's employees were delighted at the wide variety of menu choices and impressed with the international theme. Vegan and vegetarian workers, too, were grateful for a special event menu that catered to their preferences.
"As catered functions go, this was an especially fun and satisfying one for us as well as the client," added Patti Zylstra. "We were also pleased to recommend a long-time collaborator — Baker Tent Rentals — to provide the special event's shelter, tables and chairs. Everything went smoothly and as planned."
All about creating mouthwatering and memorable experiences, rely on Catered Creations to enhance your next event. From weddings and social parties to picnics and corporate functions, we've been serving West Michigan since 1986.