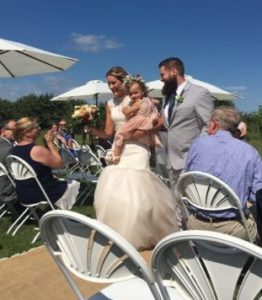 Any wedding reception or event caterer is bound to receive some special requests, but the one for the nuptials of Amanda Gardner and Eric Haycock on Saturday, July 15, 2017 was a first for us! And, as it turns out, their appeal was actually two-fold.
For the wedding and reception, the couple had selected Witt's Inn & Café of Lowell, Michigan as their venue, inviting 160 family members and friends to the late-afternoon ceremony.
While the bride wore white and followed the tradition of carrying "something blue," Eric's first request was brown. Bellaire Brown Ale, to be exact. You see, he is a proud employee of Short's Brewery in nearby Bellaire, Michigan, and the beverage is its flagship brand. At the reception, the preferred brew was not only to be on tap but also on the wedding reception menu.
What's more, the groom is a vegan and while he and Amanda wanted to accommodate their many guests who preferred a meat entrée, the couple also desired some meatless wedding menu selections.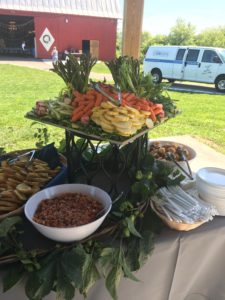 "Intrigued by the unique wedding menu challenge, we created a Bellaire Brown Ale vegan dip," said Patti Zylstra, owner of Catered Creations. "We also smoked a brisket using the ale, and made a sauce of it as well."
To meet the request of Amanda and Eric for a vegan entrée wedding menu item, the reception caterer prepared a delicious cauliflower chickpea curry and served it over basmati rice.
"Thanks in large part to some creative catering, our wedding was absolutely amazing," said Amanda. "We were able to incorporate our favorite beer into the brisket and had a delicious vegan option for my husband. So many guests said it was the best wedding food they have ever had. Eric and I are both extremely happy with how wonderful everything was!"
All about creating mouthwatering – and memorable – experiences, rely on Catered Creations to enhance your next event. From weddings and social parties to picnics and corporate functions, we've been serving West Michigan since 1986.