Let It Snow!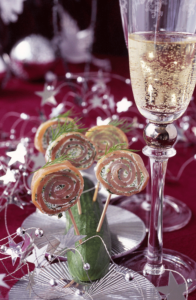 In many ways, summertime affairs can't hold a candle to scheduling your wedding or other special events during the winter months — especially if you can work around the holidays.
"Zig" when others "zag" and opt for January, February or March instead of June or July. You'll gain a greater chance of getting your first choice in dates, venues, entertainment and key allies like wedding caterers.
You won't compete as hard for guests, either! It's likely your family members and friends will have fewer conflicting dates during the winter months, as well as a greater willingness to celebrate a special occasion such as a winter wedding ceremony and reception!
With a little imagination and preparation, a wintertime wedding or special event can be memorable in ways that more commonplace summer affairs are not. Of course, the "elephant in the room" is winter weather. In many parts of the country, it's positively daunting. In others, it's merely unpredictable!
Here are some tips that account for the weather. Others will enhance the winter special event you may have in mind:
Allow for Extra Travel Time
Bad weather almost always means slow traffic. Be sure to schedule enough extra minutes for travel to your wedding ceremony or another winter special event.
Select a Single Venue
If tying the knot, try to have your wintertime wedding ceremony and reception in a single location or, at a minimum, at venues very close to each other. This will reduce travel challenges in case of snow or rain.
Welcome All with a Warm Drink
Your winter special event guests may have ventured out in the cold and dark to join you. Reward them with a warm and cheery beverage on arrival!
Don't Forget the Coat Check
You probably won't need a coat check in the summer but it's almost sure you will if you've opted for a January, February or March wedding or another wintertime special event. So, be prepared to check coats and store them safely.
Enhance the festivities with Candles
It gets dark earlier in the wintertime. Don't fight it! Embrace it with warm and romantic candlelight at both your wedding ceremony and reception space.
Huddle Up with Your Event Caterer
While summer affairs can benefit from lighter fare, consider crowd-pleasing catered comfort foods for your wintertime wedding reception or special event. After serving savory or hearty selections, you'll want to help guests satisfy their sweet tooth with must-have catered winter treats.
Your wedding caterer is bound to have some wintertime special event catering menu suggestions, but here are a few to get you started:
Grilled Cheese Sandwich and Tomato Soup Appetizers: Take a classic cold-weather combo and shrink it down to servings sized for the cocktail hour!
Mini Mugs with Soup Sips: Create an easy-to-enjoy hors d'oeuvre by filling small mugs with hot and hearty soups. Pick a favorite, or offer a choice of several.
Potato Bars with Toppings: Set up a table at your wedding reception or special event with baked and mashed potatoes, tater tots, French fries and stuffed potato skins.
Hot Chocolate and Toppings Bar: Treat wintertime wedding or special event guests to cups of hot cocoa. Toppings can include peppermint stick stirrers, sprinkles and whipped cream.
All about creating mouthwatering – and memorable – experiences, rely on Catered Creations to enhance your next event. From weddings and social parties to picnics and corporate functions, we've been serving West Michigan since 1986.