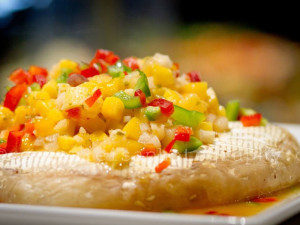 One of the most exciting trends in the culinary world today is the farm-to-table movement. A buzzword referring to food prepared from seasonally fresh and locally sourced ingredients, farm-to-table has enjoyed remarkable popularity in recent years with everyone from high-end eateries to quick-serve restaurants and extending, not-surprisingly, to eager-to-please event caterers.
Of course, the appeal among betrothed couples, corporate event planners and others seeking farm catering menu items for their wedding events and other catered functions is similar to the attractions that others hold for farm-to-table cuisine.
Above all, you and your guests will enjoy catered food that's fresh, "in season" and flavorful.
To some, the added appeal of farm-to-table catering is its emphasis on greater health. Consider that processed foods are likely to contain sugar, fat and sodium. With others, the attraction to farm table fare is environmental. After all, energy needs are less for produce that's shipped fresh and locally instead of refrigerated and transported cross country.
The satisfaction of supporting nearby producers is also another plus of opting for a farm table at your catered event. In some, instances, the producers are so local as to be neighbors or friends of the hosts—attending the very wedding reception or other catered event for which they've provided the food!

Of course, event menu-wise expect the "down home" as opposed to the far off or exotic. Just as a farm-to-table wedding menu in Alabama wouldn't count pineapple as a local ingredient, a similar occasion in Honolulu is not likely to feature stone-ground Southern grits.
"One extension to the farm-to-table trend for catered event menus applies to craft beer and regional wines," said Catered Creations' owner Patti Zylstra. "We'll not only work with couples and planners on serving fresh, farm-to-table menu items, but also local beverages. In fact, for one recent catered wedding reception, a favorite ale from a nearby brewery was not only a featured drink but also the inspiration for a customized vegan dip, smoked brisket and barbeque sauce we created for the affair!"
All about creating mouthwatering – and memorable – experiences, rely on Catered Creations to enhance your next event. From weddings and social parties to picnics and corporate functions, we've been serving West Michigan since 1986.